It was played just two days before the NRL grand final between the Sydney Roosters and Melbourne Storm at ANZ Stadium on Sunday – a field Weyman knows well.
He was part of Wayne Bennett's 2010 Dragons premiership, when they thrashed the Roosters 32-8.
Since retiring, Weyman has a cattle-and-sheep farm down the coast where the drought has started to hit hard to the point he's hand feeding his livestock.
Luckily for him, he doesn't rely solely on his farm and  also has a job as a sales representative for a timber and hardware company to fall back on.
"It has [affected me] a bit. It's pretty dry down there at the moment. Hopefully we can get some rain soon. They're predicting a bit this weekend so fingers crossed," Weyman said.
"It's very tough at the moment. We're hand feeding cattle at the moment. It's pretty hard when you start hand feeding cattle every day."
The federal government has come to the aid of farmers, giving them financial assistance to help get through the drought.
Weyman said it was a big help for those in need.
"It does, but at the end of the day we're governed by the weather. If we don't get any rain you start losing stock and as soon as you start losing stock that's when you start losing money," he said.
"I'm lucky in a way that I'm not relying on my wage from the farm to live, but some people rely on that to live. When you're losing stock as quick as they are it makes it hard."
Weyman answered a call from Pie in the Sky organiser Ken Beissel to be part of the game, having only hung up the boots a couple of years ago.
He played in last year's Legends of League game in Gosford and will run out in it again on November 17, helping raise money for the Mark Hughes Foundation.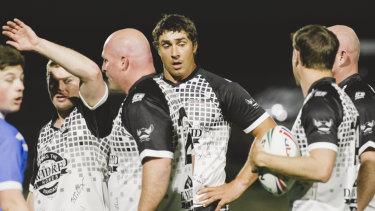 The timing of Beissel's phone call couldn't have been any better.
"I was three parts charged when he rang and it sounded like a good idea at the time," Weyman said.
Did it still sound like a good idea come game day? "No," he laughed.
RELATED ARTICLE